Descriere
About
With a length of 9.69 and a Beam of 3.34, it offers a large deck area and interiors designed to comfortably live unforgettable days. The modern solutions of both functional design and helmet design achieve a great comfort of navigation with a stability typical of larger boats.
High quality interiors. Cozy lounge-dinette, shipowner's cabin, noted for its brightness, double bed, wardrobe and stowage space. Large bathroom with toilet and WC and kitchen furniture in solid wood that is distinguished by its design and capacity. Steering post to starboard with two-seater seat.
Layout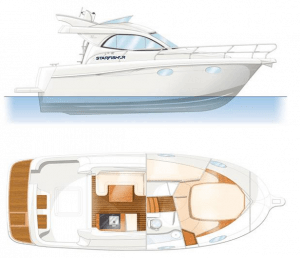 Extended Specs
Category: B
Diesel power options
2×260 CV
2×315 CV
Notes
Displacement max approx and according to versions.