Description
About
Excelent performance and behavior.
The living room can be converted in a double bed, allowint sleeping space for up to 4 people.
Layout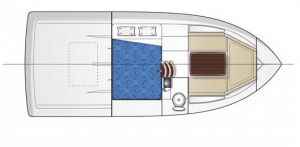 Extended Specs
Hull length: 6,93 meters
Outboard Engines
1x 150 CV | 1x 300 CV
2x 90 CV | 2x 150 CV
Notes
Displacement max approx and according to versions.