Description
About
The deck stands out due to its spacious sunbed in the aft deck which contains a dinghy garage and a large bathing platform. The generous sidedecks enables an easy access to the bow, where there is a wide sunbed.
High quality interiors. Bellow deck offers a separate stern cabin with a double bed, saloon with a table and "U" shaped sofa which converts into a double bed. On starboard there is a separate WC.
Layout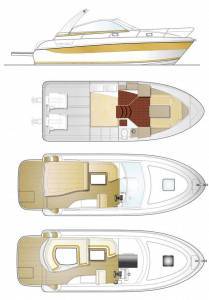 Extended Specs
Category: B
Mono-motor:
250/350 CV
Bi-motor:
2×160/260 CV
Notes
Displacement max approx and according to versions.