Description
About
In the ST 27 Cruiser spending free time is easy. Its smooth and stylish design will caught the eye while cruising or moored in port. Designed to be enjoyed with family or friends, safety and performance are excellent, thanks to its V-shaped bow and evolving tunnels that provide a fast and smooth glide. The attraction features a solarium and Flybridge helm. The spacious cockpit and swimming platform allow full enjoyment of the boat.
The cozy living room / dinette allows a comfortable life on board thanks to a convenient L-shaped sofa and center table. The kitchen furniture, solid wood, is distinguished by its design and capacity. .Microwave, refrigerator and hot water. The practical position of the helm is complemented by a foot rest.The comfortable cabin has a double bed, wardrobe, plenty of storage space.and a useable hatch. Spacious bathroom with a practical shower and toilet, cabinets, lighting and ventilation.
Layout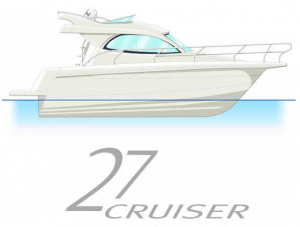 Extended Specs
Category: B
Diesel power options
2×260 CV
2×315 CV
Notes
Displacement max approx and according to versions.