Description
About
A great cruiser with more than 10 meters
Designed for sports fishing, the fly bridge has a twin command position. The entrance from the bathing platform is large enough for the access of big tunas.
Optimal features, comfortable and functional.
The double folding dinette seat makes a co-pilot seat. Wooden kitchen furniture equipped. The inside spaces creating a welcoming atmosphere in order to enjoy pleasant sailing days.
Layout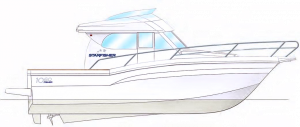 Extended Specs
Engines Diesel 2×225/260 CV
Headroom in cabin 2.00 – 1.96 m
Cockpit Dimensions – 3.14 x 2.18
Notes
Displacement max approx and according to versions.