Description
About
The new 'X' models will include innovative design features above and below deck, the latest build technologies and the use of exceptionally high quality materials. By introducing this range, X-Yachts continues sharing the passion for 'Superior Sailing Pleasure'.
The X4³ is the second model in a new range, aimed at the discerning sailor and his crew. It utilises advanced, proven technology and build techniques which only incorporate first class components, enabling the exploration of new uncharted horizons in comfort.
Details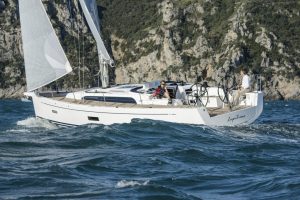 Exterior
The hull is made using vacuum infused epoxy sandwich lamination technology to ensure maximum strength and safety. The X4³ offers sailors a substantial keel weight and sail plan making it a dream to sail into wind and waves. Eleven fixed hull and deck port lights and twelve openable deck hatches ensures maximum interior ventilation and light. Six well sized self-tailing winches for halyards, genoa and main sheet. All X-Yachts normal features including encapsulated lead keel, hydraulic backstay adjuster, discontinuous rod rigging and Spectra halyards are standard.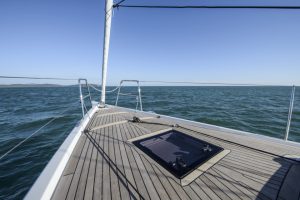 Hatches and windows
The X4³ deck hatches, portlights and windows are carefully selected for a flush fitting. Advanced design hinge mechanisms on the opening coachroof windows ensure there are no fittings or bolts visible from the outside, yet allowing ventilation and increased light down below.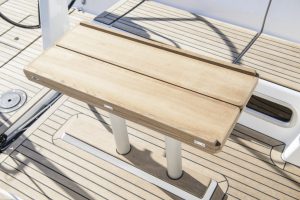 Cockpit furniture
The X4³ has a choice of cockpit tables including a large fixed table which includes storage for drinks or winch handles and allows an optional 12 inch chart plotter to be mounted. There is also a removable folding table available which can be folded and stored in one of the cockpit lockers.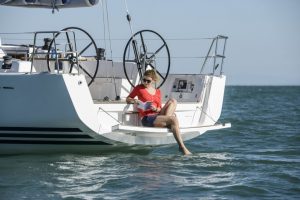 Bathing Platform
The X4³ has an optional bathing platform with a large removable bathing ladder. The bathing platform can easily be lifted using a simple rope mechanism. Adjustable foot-chocks integrated into the lazarette hatches ensure the helmsman may enjoy a perfect steering position, with a sense of security as well as a clear view forward during manoeuvres and close sailing situations.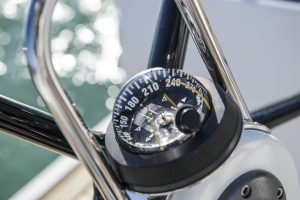 Pedestal options
The X4³ offers a choice of four pedestal options to customise the twin composite wheels and ensure every skipper has their preferred information at their fingertips. In addition, displays can also be mounted on the mast bracket and/or the companionway instrument housing for ease of viewing by all members of crew.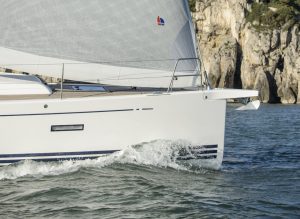 Innovative Bowsprit
The X4³ was conceived as true dual-purpose yacht. The guiding principle is that the X4³ should be competitive when sailed with a full crew and also easily handled by a couple or family. It should be optimised for racing under major handicap rating systems, but equally suited to a relaxed weekend cruise or a longer blue-water passage. Key to this adaptability is the multi-functional bowsprit, which offers four variations. The standard fixture is a GRP cowl with integrated anchor fitting. This allows for asymmetric 'Code' sails and similar to be flown from a fixed tack point, whilst ensuring the steel anchor roller with electric windlass are easily accessible. Two other popular options are a carbon bowsprit in either white painted finish or clearcoat black, with the additional option of an integrated anchor fitting. The sprit enables a full sail wardrobe of asymmetric spinnakers and reaching Code Zeros to be carried, particularly when racing under IRC. The anchor fitting is neatly concealed under the sprit. In addition to all of the above, a symmetric spinnaker pole can be carried for further flexibility.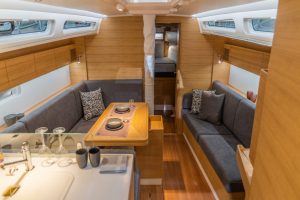 Interior Luxury
Danish design and architecture is famous for its clean, timeless style. It showcases luxury whilst also being functionally designed to work either out on the open seas or moored up in harbour. Superior quality, detailed interior carpentry and materials used sets it apart from mass produced boats, producing an exquisite, natural interior. Numerous deck and hull portlights allow for ample light to flood in, gifting the interior with a bright and roomy ambiance. Plentiful storage space throughout allows for an uncluttered, 'live on board' lifestyle, giving you a place one can retreat to when the weather outside is less forgiving.
Layouts

Three Cabin Layout
Three cabin layout with large aft heads, aft facing chart table. Shown above with optional heads in owners cabin.

Two Cabin Layout
Two cabin layout with extra large and deep cockpit locker on stbd side,large aft heads, large forward facing chart table. Shown above without optional heads in owners cabin.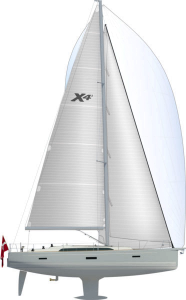 Sailplan & Extended Specs
Hull Length 12.5 m 41'0″
Waterline Length 11.31 m 37'1″
Draft – Shallow 1.85 m 6'1″
Draft – Deep 2.5 m 8'2″
Air Draft(not including Windex) 19.7 m 64'8″
Ballast – Std 3800 kg 8378 lbs
Engine Diesel 33 kW 45 hp