Description
About
Since its launch in 2013 it has impressed reviewers and sailors alike, with test reports praising the boat for its 'dinghy-like feel', fast pace, and the ability to sail the boat rapidly and easily double-handed.
2017 sees new exterior styling and an entirely new interior.
Details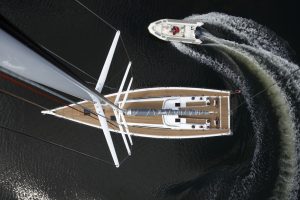 Exterior
The Xp 55 deck layout has been designed for ease of sail handling and manoeuvres whether cruising or racing. Standard features include a below deck furling drum (with furling line led back to one of the four cockpit winches). The longitudinal genoa tracks are supplied with adjustable genoa cars. All halyards and control lines are concealed below deck and led aft to the four large self-tailing winches supplied as standard. The mainsheet is attached to a single pad-eye at the cockpit floor and lead aft via the mast/halyard channels below deck, where it may be easily handled using the cockpit winches. For racing purposes, a windward tweaker block system can be deployed for both genoa sheets as well as the mainsheet to enable very narrow sheeting angles.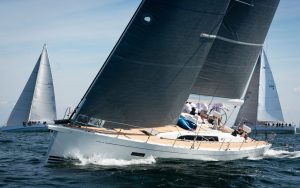 Innovative Bowsprit
The Xp models were conceived as true dual-purpose yachts. The guiding principle is that the Xp 55 should be highly competitive when sailed with a full crew and also easily handled by a couple or family. It should be optimised for racing under major handicap rating systems, but equally suited to a relaxed weekend cruise or a longer blue-water passage. Key to this adaptability is the multi-functional bowsprit, which offers four variations. The standard fixture is a GRP cowl with integrated anchor fitting. This allows for asymmetric 'Code' sails and similar to be flown from a fixed tack point, whilst ensuring the steel anchor roller with electric windlass are easily accessible.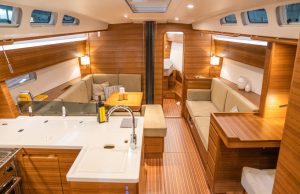 Interior Luxury
The Xp 55 features three spacious cabins, a generous galley, a choice of double or triple heads, and two owners' cabin layouts. The elegant Xp 55 interior includes new optional brushed oak wood furniture with walnut floorboards and new fixtures and fittings throughout. Teak furniture with teak and holly floorboards is standard. To port the saloon features a large U-shaped sofa with ample seating for up to eight people, a table with central bottle storage, an upholstered central seat, and a long, comfortable sofa to starboard. The freeboard on both port and starboard accommodates deep shelves with custom-designed stainless steel book brackets, and hull portlights. Spacious storage cupboards are fitted adjoining the moulded deck liner, while finishing interior touches include Ocean Air blinds and screens.
Layouts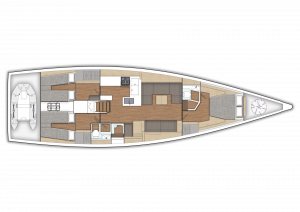 Standard Layout
The Xp 55 interior features a three cabin layout which benefits from exemplary use of light and generosity of space whilst providing ample accommodation for friends, family or crew. Ample natural light from the flush-mounted hatches and opening portlights creates a welcoming interior throughout. The Xp 55 is offered with twin showers as standard for superb convenience, with one shower in the master heads forward and a second spacious shower with seat in the aft starboard heads, accessible from the main cabin. There are two saloon options – the standard twin heads arrangement creating an extra-spacious galley. The owners' suite features a central double berth with generous headroom on all sides, an ensuite heads to port, and wardrobe to starboard.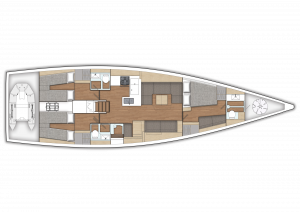 Alternative Layout
The Xp 55 can be offered with an optional three heads arrangement, which retains a generous galley and saloon area while also incorporating an additional third heads ensuite to the port aft cabin. The owners' suite features a generous double berth to port, comfortable seating and storage to starboard, and en suite master heads forward. This arrangement also allows ease of access via the heads to the forepeak sail locker.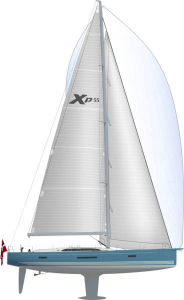 Sailplan & Extended Specs
The Xp 55 comes with two rig choices, a standard alloy mast or an optional carbon mast and boom. Both are designed in close co-operation with leading rig development companies and sailmakers, for strength, low-windage and exceptional control.
Hull Length 16.76 m 55'0″
Waterline Length 14.87 m 48'9″
Draft – Shallow 2.50 m 8'2″
Draft – Deep 3.20 m 10'6″
Air Draft(not including Windex) 25.95 m 85'2″
Ballast – Std 6500 kg 14330 lbs
Engine Diesel 81 kW 110 hp